Sector RM.3 – Seismic Hazard Mapping (Earthquakes, Volcanic Activity, Tsunami)
One of the main risks which Mankind faces since ever is the frequent occurrence of earthquakes and volcanic activity. Can we predict their frequency, the timeframes involved and the level of damage they may incur in order to mitigate the damage? One of the approaches is the territorial risk mapping and application of related regulatory measurements for industrial and urban activity, the another is the scientific analyses of their historical occurrence, and the application of new technological advancements in observations and analyses of related phenomena.
All these activities heavily involve the knowledge Earth Scientists have been gathering and are collecting daily through seismicity network monitoring, analyses of earthquakes, geological mapping, the mapping of the faults and fractures structures that are activated, the mapping of volcanic areas, and many other data analyses methodologies.
Geologists and Geophysicists are since long strongly involved in the projects, and OCRE's worldwide experts' Network of Excellency is already working on various options and projects.
To examine all the Tasks involved in this Sector, the OCRE Geoscience Services GEG List and CATALOGUE can be consulted.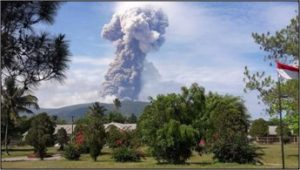 Eruption of Mount Soputan (Indonesia). From: BNPP Indonesia (2018)