Sector RM.1 – Subsidence and Seismicity Monitoring (Natural, Fracking, CCS, HC Production)
Several types of industrial activity which are being undertaken as part of the New Sustainable Energy Mix landscape are accompanied with specific risk factors which need to be mapped applying targeted technologies. One of these risk factors is now well known and has a considerable impact on stakeholders and the population: It is the increase in subsidence or micro-seismic activity of the geological substratum related to the following processes:
Extraction of hydrocarbons from subsurface reservoirs,
The enhancement of the productivity of hydrocarbons (fluid of gaseous) by fracking of the subsurface rocks,
The storage of specific gases in the subsurface such as CO2 for Enhanced Oil/Gas recovery (EOR, OGR, HER)
Each of these processes has, obviously, a number of characteristics: timeframe of the activity, depth at which the activity is undertaken (hundreds up to kilometres below the subsurface), type of methodologies applied (chemical, mechanical), economic gain, environmental impact.
A lively debate whether these activities should or should not be undertaken in certain highly sensible territories is on its way, and time will tell where economic drivers, social responsibility and future planning of the Energy landscape will find a sustainable and balanced equilibrium.
Geologists and Geophysicists are since long strongly involved in the projects, and OCRE's worldwide experts' Network of Excellency is already working on various options and projects.
To examine all the Tasks involved in this Sector, the OCRE Geoscience Services GEG List and CATALOGUE can be consulted.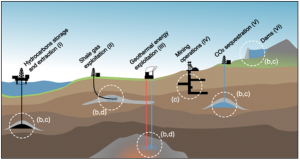 Different Activities that may induce or trigger (micro-)seismic activity. From: Grigoli (2017).